Villas to sleep 20 to 25 people with private pool in Italy.
Big villas for large groups of family and friends!
For this size of group there are two solutions. Either pick a large independent villa or a MULTIPLE-UNIT property where you take all the accommodation. (N.B. In some cases the owner may live on-site).
Multiple-unit properties – e.g. farmhouse complexes divided into apartments with pool and good on-site facilities – are particularly suitable for very large groups whose members need privacy as well as time spent together.
Tip: Always look at villas slightly bigger than you need as well as those that fit your party size exactly – you may find prices are lower, as each villa is priced individually.
Need help to choose the right property for your large group? More tips here.
Let's talk and plan your perfect large villa holiday…
TO SLEEP 20 +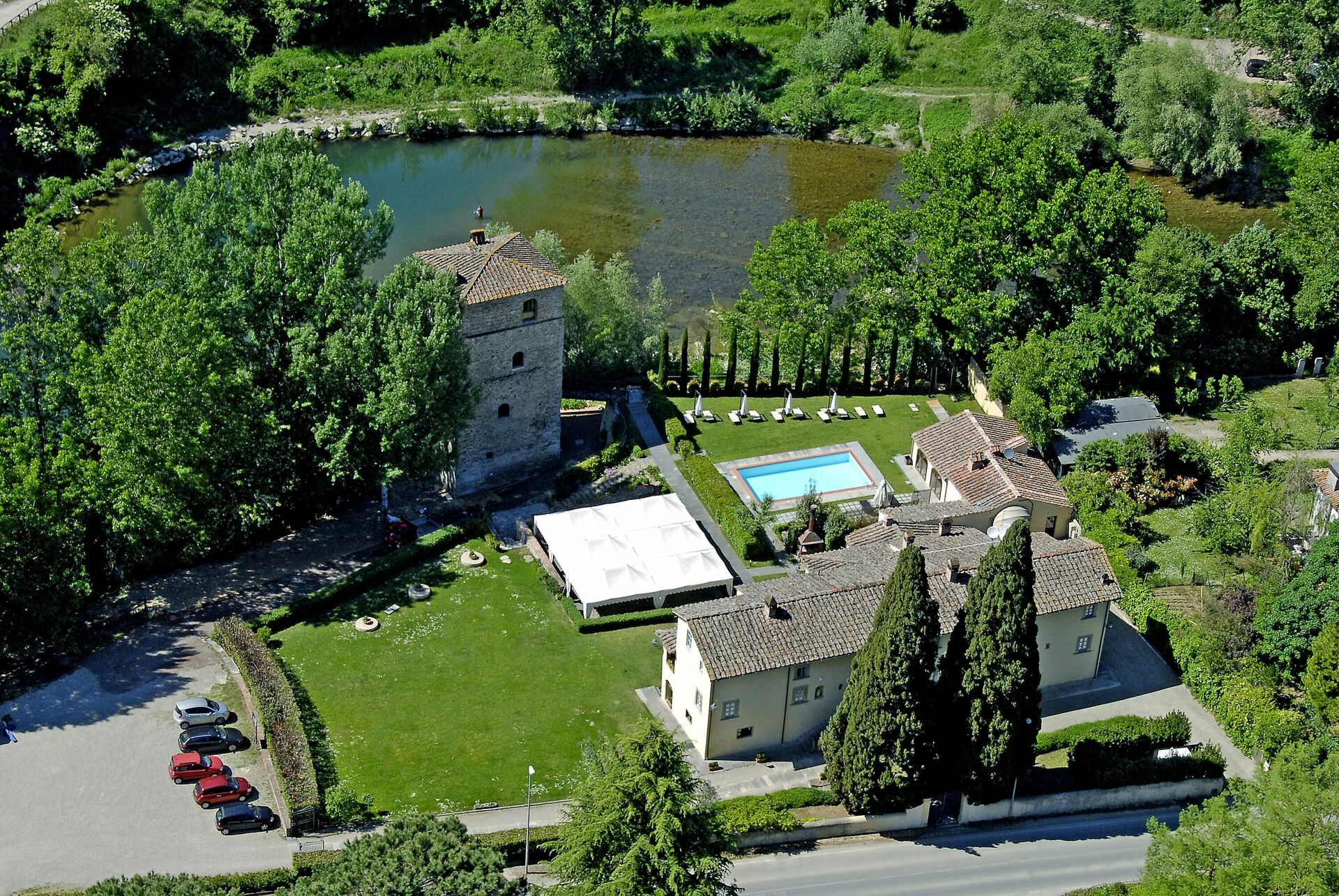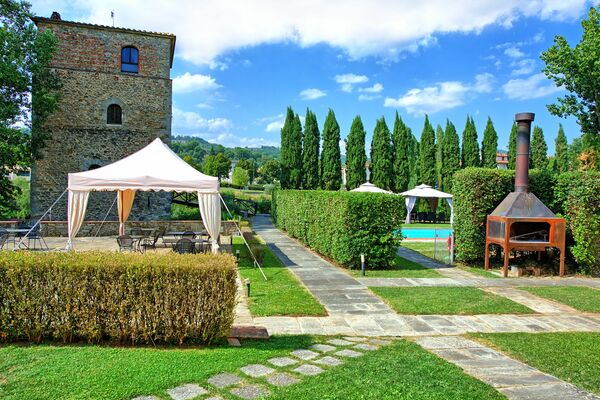 SANTA FLORA, near Capolona, Tuscany.
Walk to small town of Capolona with shops, restaurants and railway station (700m).
A beautiful property near the River Arno.
Santa Flora can sleep from 18 – 35 people in up to 15 bedrooms.
100% exclusivity for your group guaranteed.
Comprises an ancient 12th century tower with 4 bedrooms, and a central core with 5 bedrooms, a kitchen and a dining room. Up to 6 extra bedrooms + 5 extra beds can be made available for your group on request.
 Air conditioning.
Jacuzzi, fitness centre, table tennis.
The large communal areas are perfect to organize family meals and reunion dinners.
Chef service on request.
From Santa Flora you can easily reach the main Tuscan cities (Arezzo, Florence, Siena) and characteristic villages in Valdichiana, Orcia Valley and Chianti.
Arezzo is reachable by train through a local connection from Capolona.
From Arezzo there are daily connections to Florence and Rome.
SANTA FLORA –  ask us here for a price for your size of group.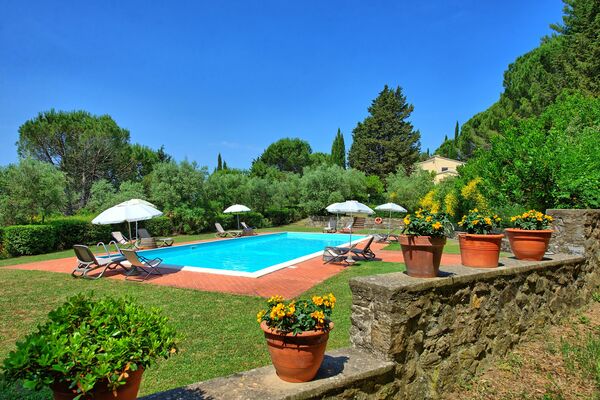 Villa Sorbaiano  near Montecatini Val di Cecina (food shops, restaurants, pizzerias, bars, bank, post office) 1.5 km. Private pool. Sleeps 20 in 10 bedrooms.  Large terraced dining area for al fresco meals. Rental prices from Euro 3658 per week.
Villa Casentino, near Arezzo, Tuscany. 8 bedrooms. Independent villa. Sleeps 20. Large common room with kitchen corner for guests to have their meals together. Spacious 8000m2 fenced-in garden. Barbecue and gazebo area for outdoor dining. Private pool with jacuzzi area. Free wi-fi internet.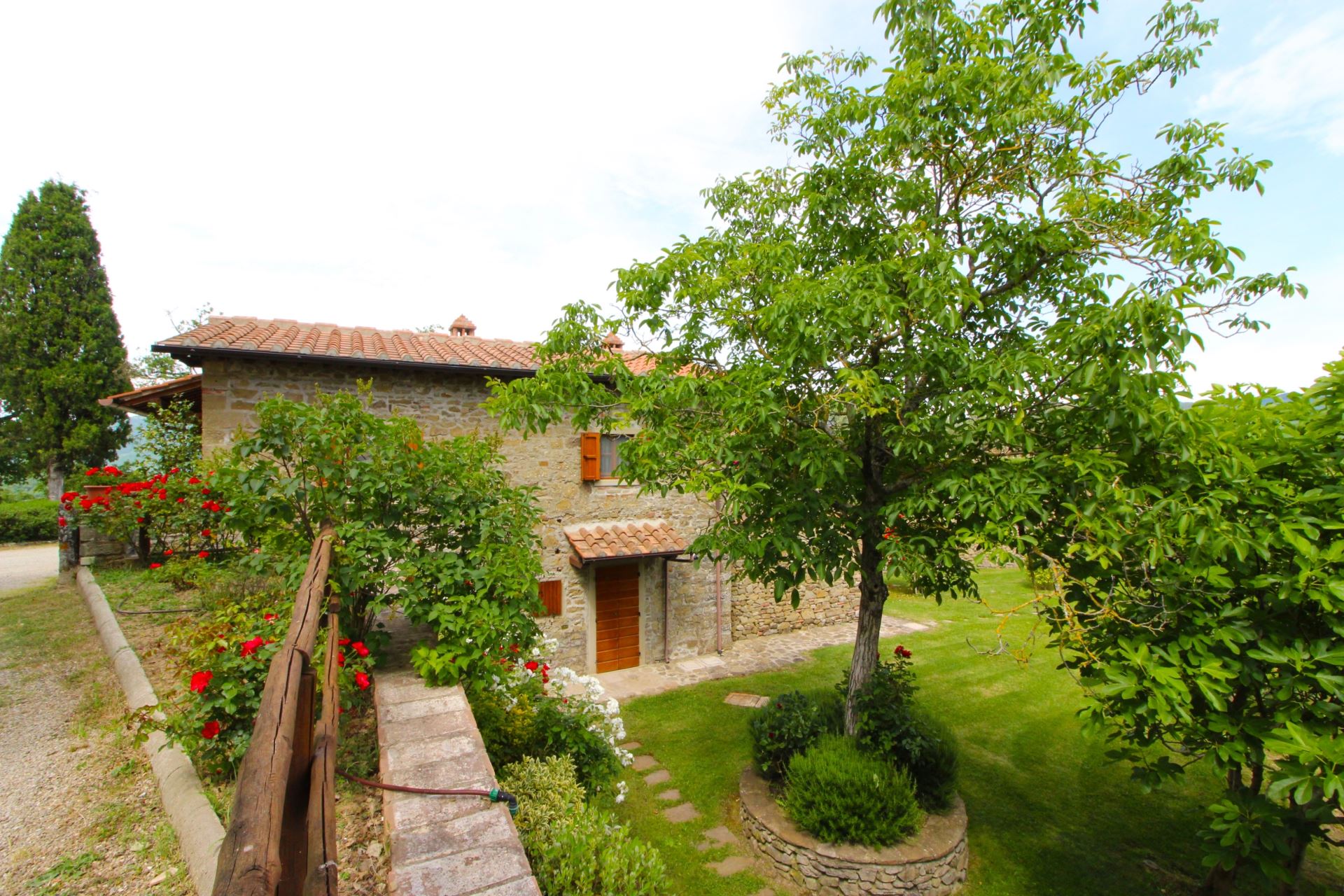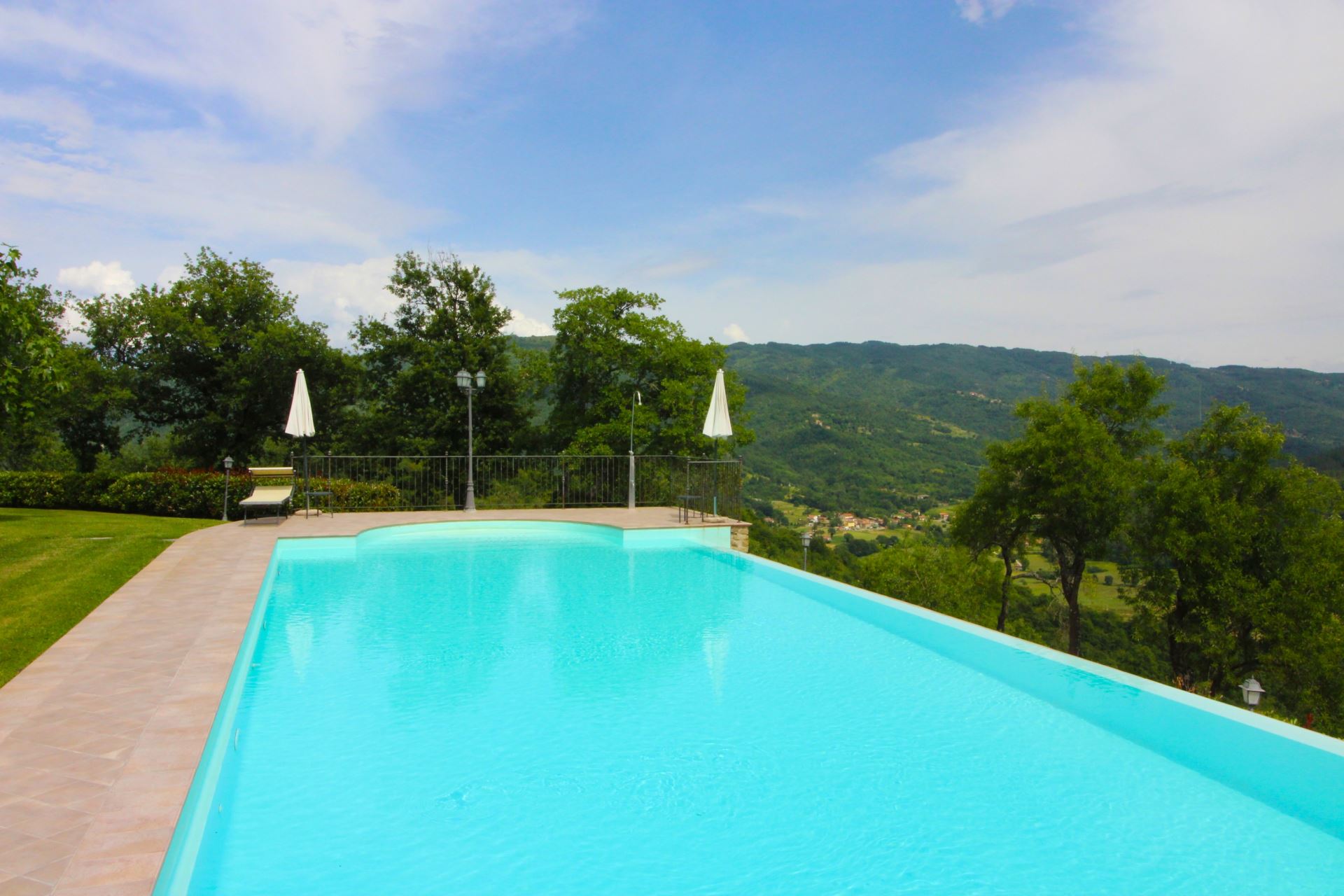 Borgo di Usciano, near Arezzo, Tuscany. Ancient stone hamlet in a panoramic position. Sleeps 20 in 10 bedrooms. Beautiful private infinity pool. The property comprises a farmhouse + 2 stone cottages. Barbecue. Free wifi. On request, the owner can organize tastings in the villa with typical Tuscan products, and tours of the area by mountain bike with guides.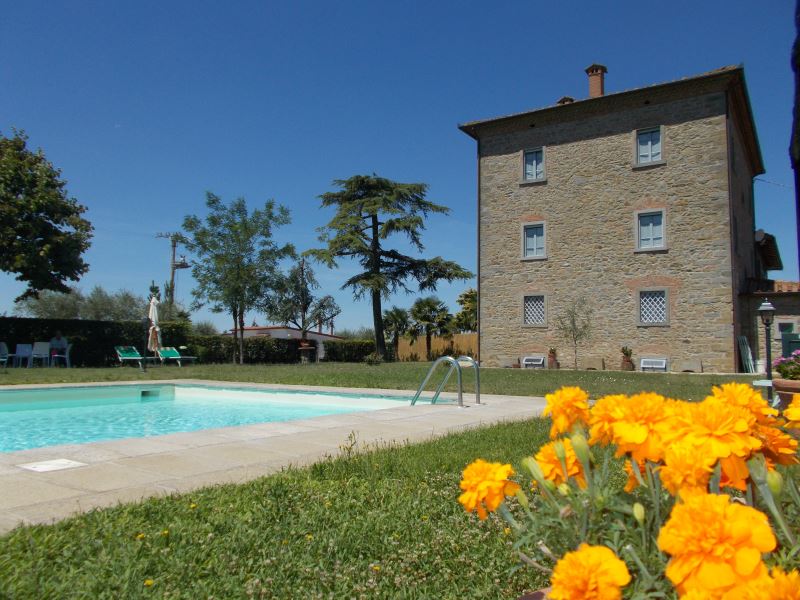 Villa Il Palazzo, near Cortona, Tuscany. Private pool. Table-tennis. Mountain bikes.  MULTIPLE-UNIT PROPERTY. Sleeps 20 in 9 bedrooms with 11 bathrooms. There are 6 independent units, each with own cooking facilities. Plus a large living-dining room with kitchen and sitting area in the basement, big enough for everyone to eat together. Ideal for large family groups.  Gazebo and pergola equipped for outdoor meals.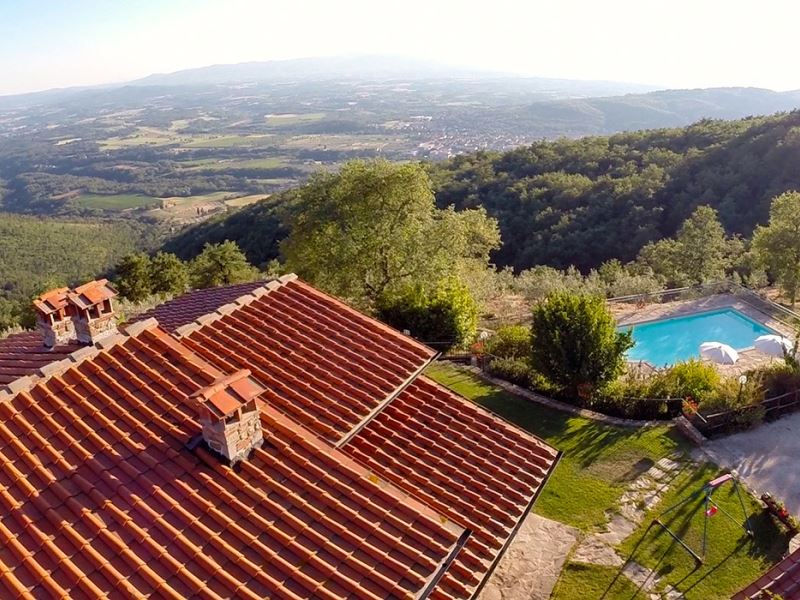 Villa Casavecchia  MULTIPLE – UNIT property. Villa with private pool for 20 people, between Arezzo and Florence, Tuscany. 9 bedrooms, 6 bathrooms. Villa Casavecchia is a stone farmhouse divided into three comfortable apartments, furnished with care. The ground floor apartment is equipped with everything necessary to be able to gather and eat together (up to 20 people). Beautiful completely-fenced swimming pool (5x10m – depth 1,20m) in the natural terrace which overlooks the Arno valley. Barbecue, a wood burning oven, children's playground, a laundry room. 
 Annarita, near Pratovecchio, Tuscany. 8 bedrooms, 6 bathrooms. Independent villa. Private pool. Sleeps 20. 
Villa Lorenzo, near Anghiari, Tuscany. 9 bedrooms + 1 connecting room with a bunk bed, 7 bathrooms. Independent villa.
Villa Gubbio, near Gubbio, Umbria. 10 bedrooms, 12 bathrooms. Independent villa. Private pool. Sleeps 20. Air conditioning. 
TO SLEEP 22
I Gigli di Bolsena, near Montefiascone / Lake Bolsena, Lazio. Private pool. 10 bedrooms. Sleeps up to 22. Air conditioning. Big ground floor dining room (35 m2), and a patio, where everyone can eat together.  
Villa Lorenza, near Palaia (Pisa area), Tuscany. Independent villa. Private pool + children's pool. 10 bedrooms. 10 bathrooms. Sleeps 22. 
Villa Fabbri, near Bucine, Tuscany. Luxury independent villa. 10 bedrooms, 9 bathrooms. Private pool. Air conditioning. Sleeps 22. 
TO SLEEP 23   To be advised
 TO SLEEP 24
 Ville Le Ferrette, near Montecatini (less than 2km away), in Tuscany. Independent villa with private pool. 11 bedrooms, 13 bathrooms. Sleeps 24. Set on a 10 hectare hilltop estate surrounded by olive trees, gardens, orchard, and forest with paths for exploring.  Panoramic views. 
TO SLEEP 24:
Villa Felciai, near Bucine, Tuscany. Farmhouse with private pool. 11 bedrooms, 11 bathrooms. Views over the surrounding landscape with vineyards and olive groves. Ideal for family reunions / weddings.  
 TO SLEEP 24
Villa Petrognano, near Barberino Val d'Elsa, Tuscany. (Comprises 2 Units: An independent villa sleeping 16 plus an outbuilding sleeping an additional 8 people). 12 bedrooms, 12 bathrooms. 
Still can't find what you're looking for? Don't give up on us just yet !
This is just a small selection. Search here for more villas .
Forward to:
Villas with pool sleeping 26, 27, 28, 29 or 30 people
Villas with pool sleeping over 30 people
Back to:
Villas with pool sleeping 15 or 16 people
Villas with pool sleeping 17, 18 or 19 people
Let's talk and plan your perfect large villa holiday

+44 (0)1603 812212