Our large villas are perfect for family reunions …
Large groups need big villas. Ideal for family reunions, groups of friends, wedding parties, birthday celebrations. Lots of fun and excellent value for money.
At most houses we can organise a cook to come to your villa to prepare dinner. Maybe a special birthday meal or wedding celebration. If you need cots for young babies these can also be supplied on request. 
Need some help?  Do take a look at our FAQs .
Plus we offer a free tailor-made holiday search service which is very useful if you are trying to arrange a large groups holiday.
You've given us your large groups feedback. Here's what you told us:
Birthday celebration Review: Fattoria Il Musarone . 
Family reunion Review: Villa degli Olivi .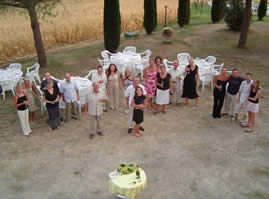 Looking for a large groups holiday villa in Italy?
Here are some ideas:
Villas with pool in Italy sleeping 13 people
Villas with pool in Italy sleeping 14 people
Villas with pool in Italy sleeping 15 or 16 people
Villas with pool in Italy sleeping 17, 18 or 19 people
Villas with pool in Italy sleeping 20, 21, 22, 23, 24 or 25 people
Villas with pool in Italy sleeping 26, 27, 28, 29 or 30 people
Villas with pool in Italy sleeping over 30 people
Villas with pool in Italy sleeping over 40 people
Villas with pool in Italy sleeping over 50 people