Villas with pool to sleep 30 to 40 people in Italy.
Extra large villas for extra large groups of family and friends!
Why are our large group holidays for family reunions and special birthday celebrations such fun? One of our clients tells her story.
Tip: Always look at villas slightly bigger than you need as well as those that fit your party size exactly. You may find prices are lower, as each villa is priced individually.
Need more hints to help you choose the right property for your large group? More tips here.
Let's talk and plan your perfect large villa holiday
N.B. The "sleeps" figure includes any sofa-beds. If you do not wish to use sofa-beds then please check the number of bedrooms and ensure that they will accommodate your party.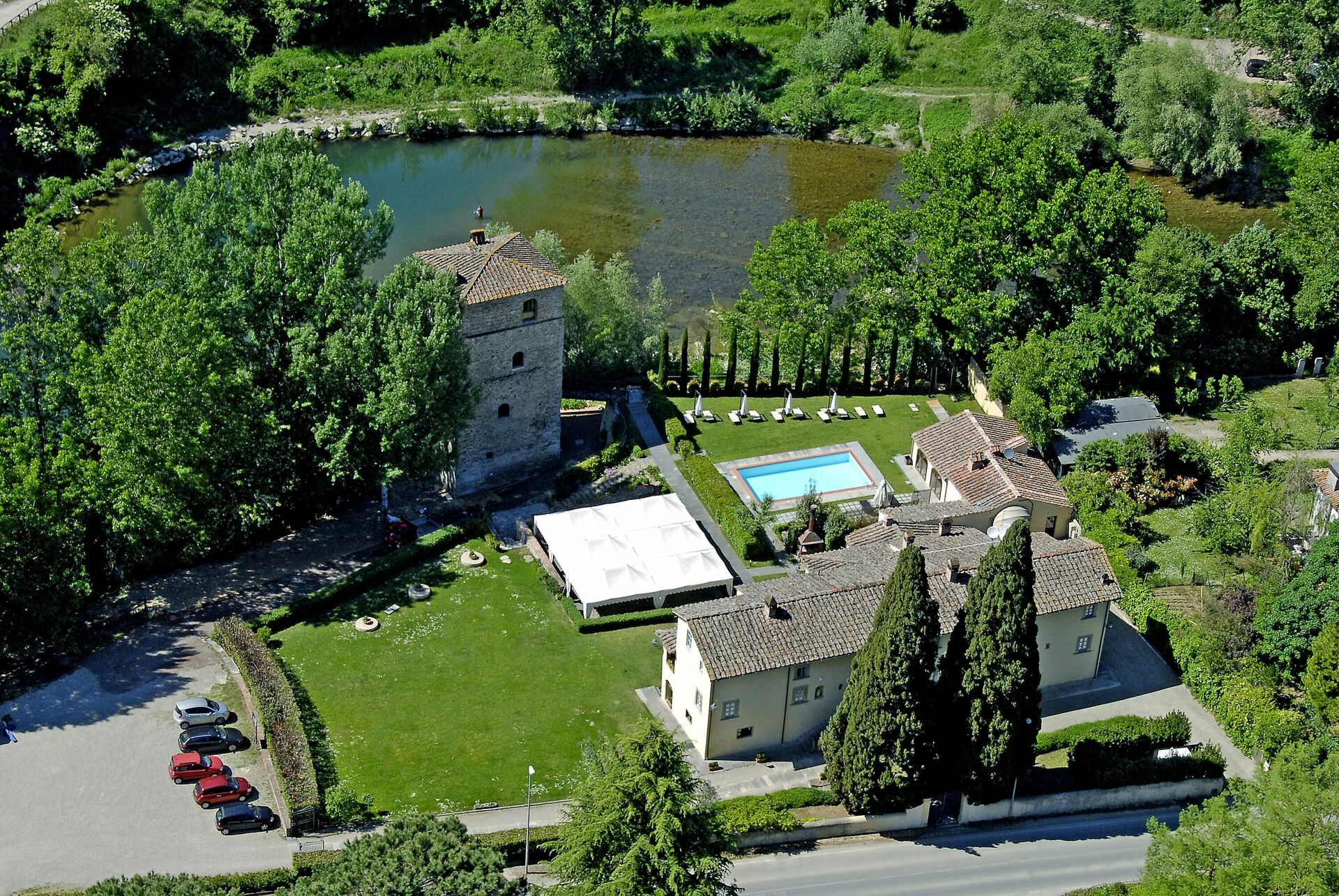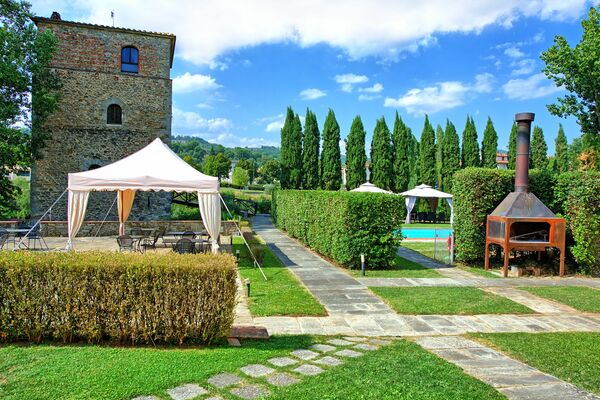 SANTA FLORA, near Capolona, Tuscany.
Walk to small town of Capolona with shops, restaurants and railway station (700m).
A beautiful property near the River Arno.
Santa Flora can sleep 18 – 35 people in up to 15 bedrooms.
Comprises an ancient 12th century tower with 4 bedrooms, and a central core with 5 bedrooms, a kitchen and a dining room. Up to 6 extra bedrooms + 5 extra beds can be made available for your group on request.
 Air conditioning.
Jacuzzi, fitness centre, table tennis.
The large communal areas are perfect to organize family meals and reunion dinners.
Chef service on request.
From Santa Flora you can easily reach the main Tuscan cities (Arezzo, Florence, Siena) and characteristic villages in Valdichiana, Orcia Valley and Chianti.
Arezzo is reachable by train through a local connection from Capolona.
From Arezzo there are daily connections to Florence and Rome.
SANTA FLORA –  ask us here for a price for your size of group.
Podere Romina, near Cortona, Tuscany. Farmhouse sleeps 34 in 13 bedrooms. Divided into 5 apartments.  Communal area with barbecue and large table in the grounds. Barn with kitchen and tables for hire for large group meals etc. Air conditioning and wi-fi in all of the apartments. Bicycles.
Villa I Grandi di Toscana, near Monte san Savino, Tuscany.
Luxury villa surrounded by vineyards and olive groves.
Sleeps up to 33 in 17 bedrooms in 8 elegant apartments and 2 suites with private bathroom.  Panoramic and quiet position. Air conditioning. Wifi.  Set in 62 hectares.
Private swimming pool, tennis court 
The property includes also the "San Ferdinando" winery where excellent wine and DOCG extra virgin olive oil is produced, which can be tasted and bought on the farm.
Flavia. Fantastic location, midway between Lucca & Pisa, (both 8km away). 6 apartments with shared pool.  Sleeps 30 in 13 bedrooms, 12 bathrooms.Each apartment with internet access. Versilia beaches 35km. Food shop and bus stop just 100m away. Shared room with drying and ironing facilities. Large garden with swimming pool shared with property owners.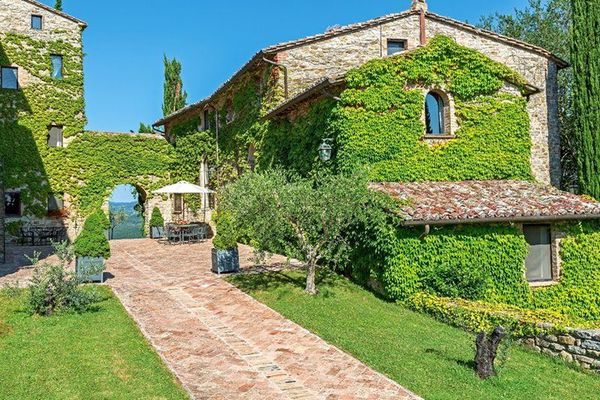 Bastia, near Umbertide, Tuscany/Umbria borders. Sleeps 30 in 13 bedrooms, 13 bathrooms.
Beautiful 15th-century hamlet, recently renovated and converted. The property is made up of 5 spacious apartments, and a vast, equipped garden with a pool and tennis court. Each apartment offers air conditioning, satellite TV and Wi-Fi internet. An elegant common room (in what was originally the ancient chapel) can be used for cooking lessons, breakfasts (upon request), surfing the internet (laptop available), playing the piano.
Breakfast and dinner served on request.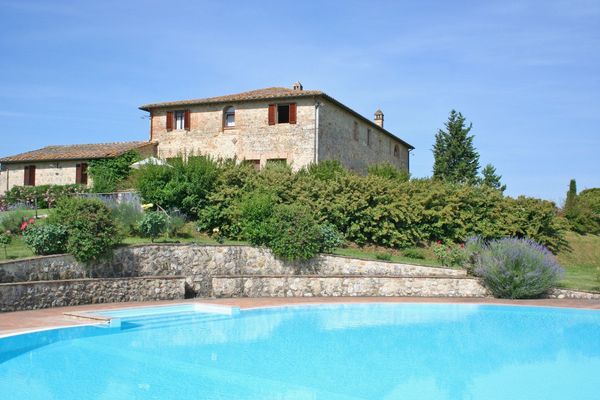 San Donnino, Ville di Corsano, Tuscany. Sleeps 31 in 13 bedrooms, 11 bathrooms. The property can be rented in its entirety for groups, in which case guests may use a large, shared common room with kitchen. Swimming pool.
Il Gualdo, in the village of Gualdo, Tuscany. Convenient location within 15km of Viareggio, Forte dei Marmi, Lido di Camaiore, Marina di Pietrasanta and Camaiore (all well-known Versilia seaside resorts).  Lucca is at 25 km. Pisa (where there is an airport) is only 33km away.  Sleeps 34 in 13 bedrooms, 9 bathrooms. Swimming pool. Barbeque. Free wifi in certain communal areas.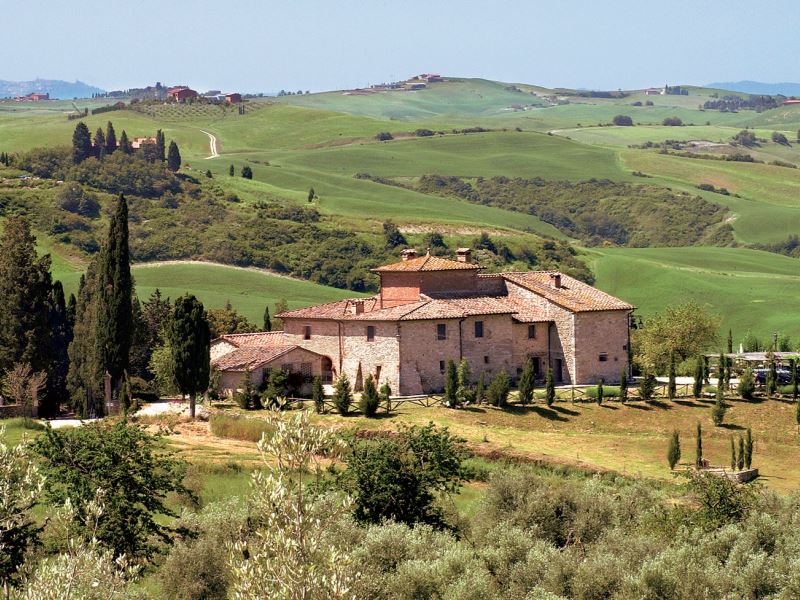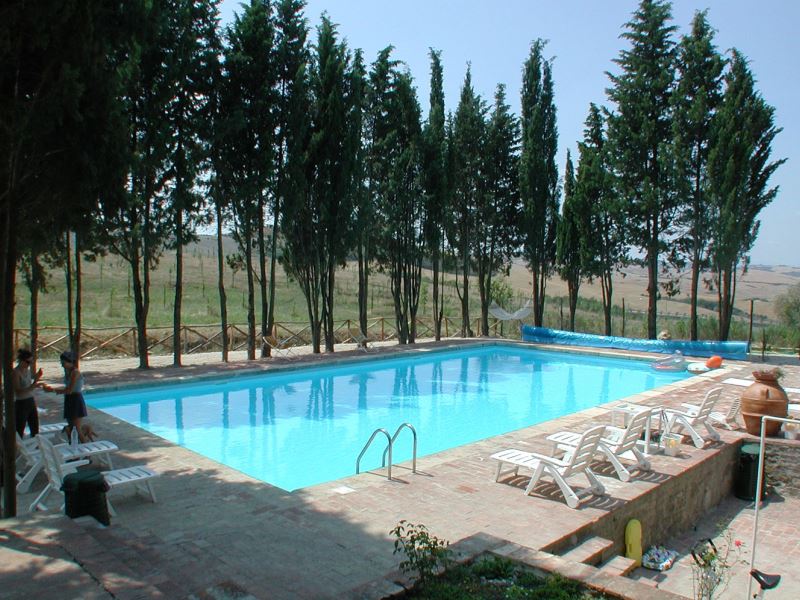 Aia Vecchia, near Asciano, Siena and Montepulciano – Tuscany. Sleeps 35 in 15 bedrooms, 10 bathrooms. Infinity swimming pool with Jacuzzi area, a charming pond with thermal water, playground for children and an ancient chapel dating back to the 14th century. Communal rooms. Billiard room. Table-tennis. Mountain bikes.
Forward to: Villas with pool sleeping 40+ people
Need an even larger property? We have a big selection of multiple-unit properties – e.g. farmhouse complexes divided into apartments with pool and good on-site facilities – that would be suitable for very large groups of 50 – 100+. Please ask us here for more information, giving us details of your party size and requirements.
For smaller groups see our:
Villas with pool sleeping 12 people
Villas with pool sleeping 13 people
Villas with pool sleeping 14 people
Villas with pool sleeping 15 – 16 people
Villas with pool sleeping 17 – 19 people
Villas with pool sleeping 20 – 25 people
Villas with pool sleeping 26 – 30 people
Let's talk and plan your perfect large villa holiday

+44 (0)1603 812212