Birthday celebration in Italy.
A large group of friends stayed at Villa Il Musarone, near Bettolle, Tuscany. Our customer told us: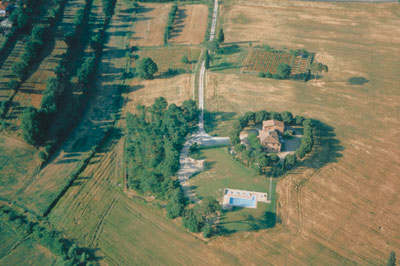 "Celebrating a special birthday in Italy with 30 friends and family was a piece of cake with
One Stop Italy.
Gill listened to our needs and budget requirements and sourced a huge house converted into apartments in Tuscany for the big bash.  It was big enough for us all have our own space with the added benefit of having a large pool and secluded grounds all to ourselves.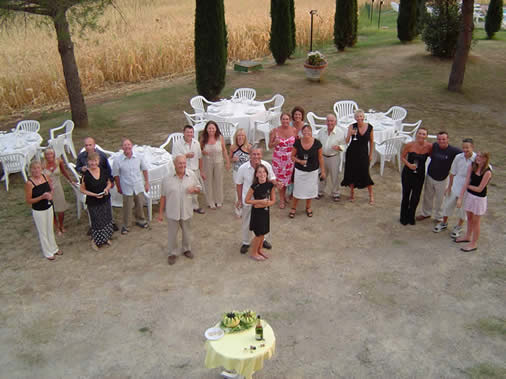 Gill didn't stop there, she also organised chefs to prepare and serve the gourmet birthday meal at the house – a truly incredible experience.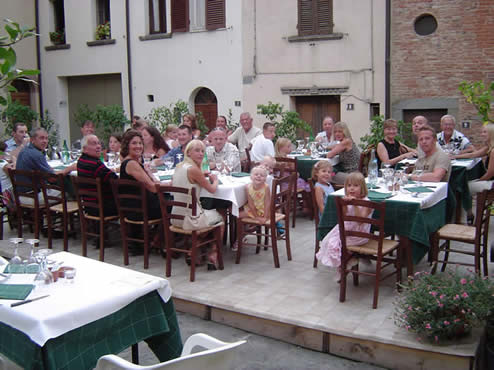 Enjoying a group meal at a village restaurant
We have taken 3 different large houses for various celebrations and will continue to use Gill in the future, safe in the knowledge the accommodation, price and service is second to none."
Mrs E. Paganini.
If you are planning a holiday in Italy for a large group, One Stop Italy can find you the perfect venue. We specialise in family reunions, special birthday celebrations with groups of friends, accommodation for wedding parties. Start by taking a look at our large villas with pool in Italy.
Interested?

+44 (0)1603 812212 and talk to Gill or Adrian, not a call centre.
Or contact us by email