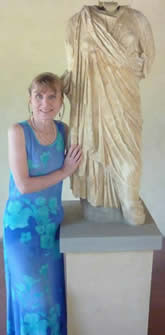 Hello, I'm Gillian Dearnley, the owner of One Stop Italy.
We offer holidays in Italy with a personal touch.
We've been arranging holiday villa, farmhouse and apartment rentals throughout Italy since 1988. That's 35 years now. We figure that if we've lasted this long, we must be doing something right!  And our clients come not just from the UK and Europe but from the USA, Australia and New Zealand … in fact from all over the world.
So what makes us different?
1. We really understand how important it is for you to find the right villa, particularly if it's your first time in Italy. We know a lot of the villas in our programme personally, and all have been visited / photographed by colleagues in our Italian offices before they are included in our portfolio.
2. After 30 years, we have many personal contacts in Italy and can draw on their expertise. They're not just business contacts, we know them personally as friends and our families have grown up together.
3. We can advise you based not just on our own experiences, but on the feedback we've received from our clients over so many years. We know what questions to ask and can help you avoid the pitfalls!
4. All of our clients are special to us – you're always a name and never just a number.
'Special Occasion' bookings
As well as countless summer holidays, many 'special occasions' have been organised through us over the years, including family reunions, birthday celebrations, honeymoons and even the wedding itself!
Some of our special bookings have included arranging:
– A 3 month stay in a castle for an internationally-famous pop group after a world tour.
– A private villa for a British Government minister.
– A family villa for a world-famous children's author.
– A large villa for a TV celebrity and her extended family.
– A wedding ceremony in a small Tuscan village, followed by a reception and accommodation for 25 guests.
– Accommodation for wedding parties and large family reunions from all around the globe. (The largest to date being for 70 people).
– Villas (and meals) for special birthday celebrations.
– Romantic hideaways for countless honeymoons.
So, why not benefit from our long experience. Whatever you ask us for, we won't be fazed! We've seen it, done it and got the T-Shirt!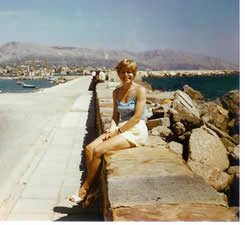 Gillian Dearnley: a mini-biography
I have always been a lover of all things Italian, and visit Italy as often as I can. I like to think that my company One Stop Italy helps to turn people's holiday dreams into reality.
So how did I get involved in the holiday sector? Like most things, through a lucky coincidence really. After graduation (I hold a BA degree in Modern Languages and an MA degree in International History) I worked in the fields of both education and industry. I knew though that the most satisfying career path for me would be to start my own business. Initially, I ran a small translation agency and by chance, one of my clients owned an apartment abroad. This was the catalyst which led me to combine my foreign language skills with my love of travel.
My husband Adrian, a qualified accountant, oversees the financial side of things.
From small beginnings One Stop Italy has grown to the point where we now represent several Italian holiday companies in the UK and offer over 2000 holiday properties throughout Italy.
Just contact us with your requirements and we'll do the rest.