Sleep 26 – 30 people: Villas with pool in Italy.
Ideal for very large groups, family reunions, special birthday celebration.
Tip: Always look at villas slightly bigger than you need as well as those that fit your party size exactly – you may find prices are lower, as each villa is priced individually.
Need more hints to help you choose the right property for your large group? More tips here.
Let's talk and plan your perfect large villa holiday. 
VILLAS TO SLEEP 26 – 30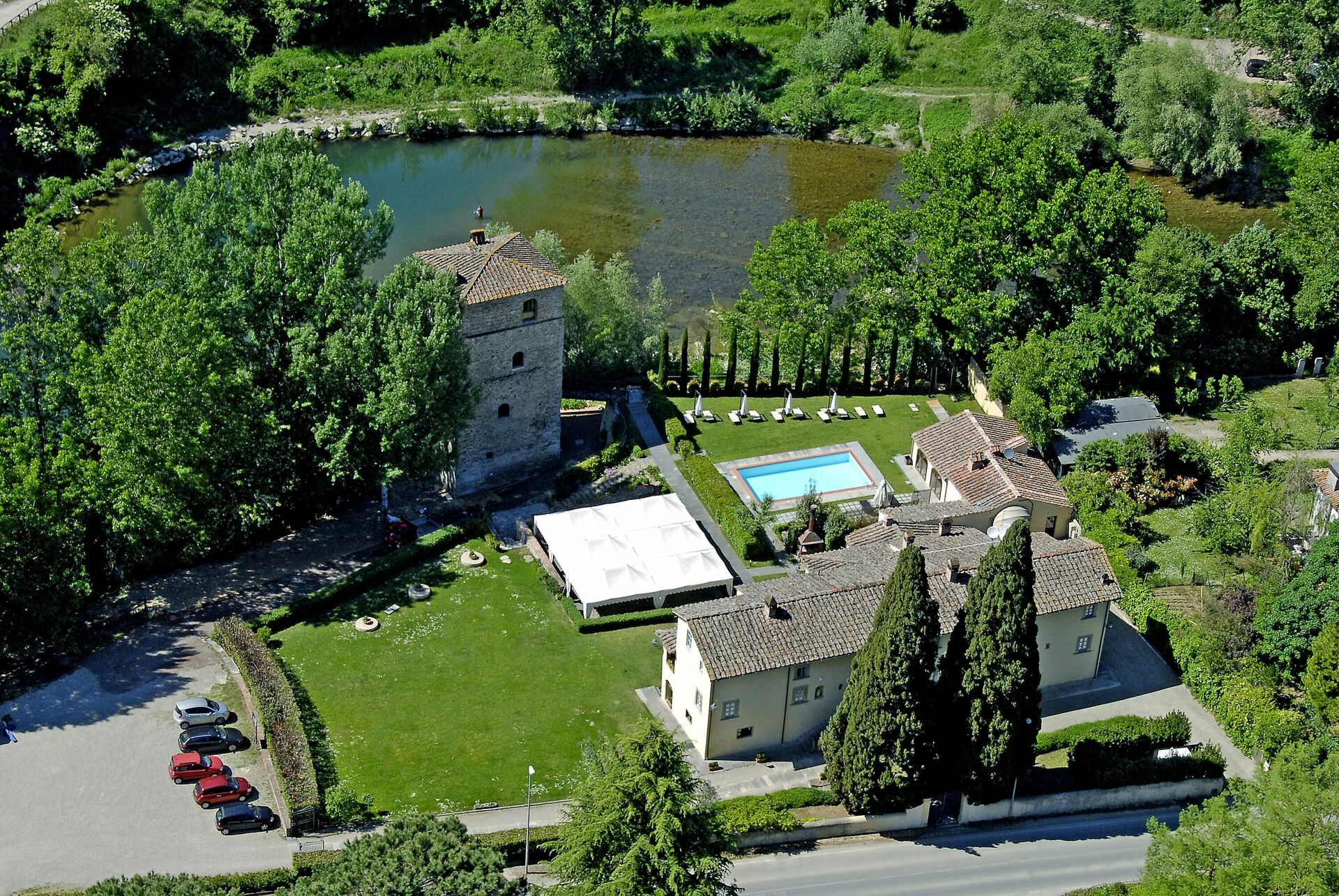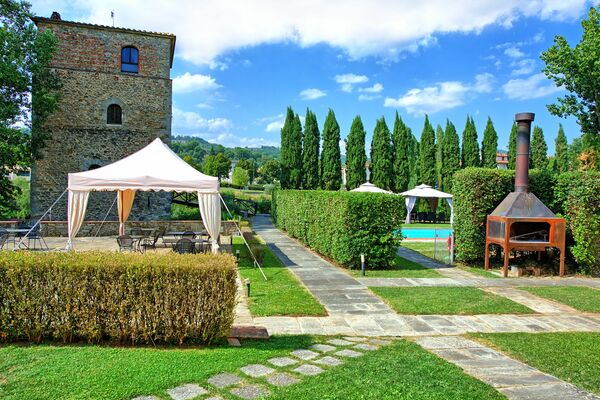 SANTA FLORA, near Capolona, Tuscany.
View PHOTO GALLERY SANTA FLORA
Walk to small town of Capolona with shops, restaurants and railway station (700m).
A beautiful property near the River Arno.
Santa Flora sleeps 18 – 30+ guests.
Comprises an ancient 12th century tower with 4 bedrooms, and a central core with 5 bedrooms, a kitchen and a dining room. Up to 6 extra bedrooms + 5 extra beds can be made available for your group on request.
100% exclusivity for your group.
 Air conditioning.
Jacuzzi, fitness centre, table tennis.
Large communal areas perfect for family meals and reunion dinners.
Chef service on request.
From Santa Flora you can easily reach the main Tuscan cities (Arezzo, Florence, Siena) and characteristic villages in Valdichiana, Orcia Valley and Chianti.
You can get to Arezzo by train through a local connection from Capolona.
From Arezzo there are daily connections to Florence and Rome.
SANTA FLORA –  ask us here for a price for your size of group.
VILLAS TO SLEEP 26        
Montaione,  with fenced swimming pool, 2km from Montaione, Tuscany. Sleeps 30 in 15 bedrooms, 15 bathrooms. Swimming pool + baby pool. Tennis court / soccer pitch. Small lake with picnic area. The property is divided into 5 apartments. Stunning interiors. 
Villa Giare, near Cortona, Tuscany. Just 200 m from the village of Fratticciola with a food shop. And 2 km from the village of Fratta with shops and restaurant. Sleeps 26 in 12 bedrooms, 11 bathrooms. Beautiful property divided into 8 units but rented as an independent villa. Common room with dining room with fireplace & kitchen.  Swimming pool. Air conditioning. Free wifi. 
VILLAS TO SLEEP 28
Le Colline, near Montaione, Tuscany. Sleeps 28 in 13 bedrooms, 7 bathrooms. Swimming pool. Tennis court and seasonal vegetable garden available to guests (at 4km). Wifi.
VILLAS TO SLEEP 30
Flavia. Fantastic location, midway between Lucca & Pisa, (both 8km away). 6 apartments with shared pool.  Sleeps 30 in 13 bedrooms, 12 bathrooms.Each apartment with internet access. Versilia beaches 35km. Food shop and bus stop just 100m away.  Shared room with drying and ironing facilities. Large garden with swimming pool shared with property owners.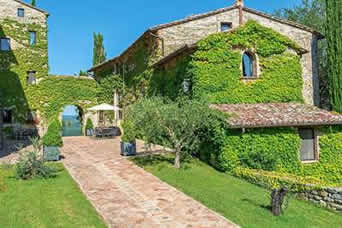 Bastia, near Umbertide, Tuscany/Umbria borders. Sleeps 30 in 13 bedrooms, 13 bathrooms.
Beautiful 15th-century hamlet, recently renovated and converted. The property is made up of 5 spacious apartments, and a vast, equipped garden with a pool and tennis court. Each apartment offers air conditioning, satellite TV and Wi-Fi internet. An elegant common room (in what was originally the ancient chapel) can be used for cooking lessons, breakfasts (upon request), surfing the internet (laptop available), playing the piano.
Breakfast and dinner served on request.
Can't find what you're looking for? We have more villas.
Forward to:
Villas with pool sleeping over 30 people
Villas with pool sleeping over 40 people
Villas with pool sleeping over 50 people
Back to:
Villas with pool sleeping 15 or 16 people
Villas with pool sleeping 17, 18 or 19 people
Villas with pool sleeping 20, 21, 22, 23, 24 or 25 people
Let's talk and plan your perfect large villa holiday

+44 (0)1603 812212