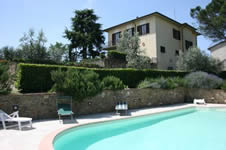 Q: What is the One Stop Italy free tailor-made holiday search service?
A: It's a service we offer free of charge to save you time and money when looking for a holiday property to rent in Italy.
Q: How does it work?
A: You send us details of your party size, dates, budget, preferred location and any special requirements. We will then look through our programme of over 2000 properties and send you back a list of those we think might interest you, and tell you why. You can contact us by email or by phone on (01603) 812212.  Tip: It's very important to give us your approximate budget range please. Particularly for large family groups. If you don't already know it, then please have a think about it. This will save you a lot of time. Without it the 'search' process will take you a lot longer.
Q: But surely I can do all this myself, by searching your online catalogues?
A: Yes you can, but you may overlook something interesting. For example, say you are looking for an independent villa to sleep 15 with its own private pool and private tennis court. Would you realise that a property divided into 3 apartments can offer the same facilities with the same level of privacy at half the price?
Maybe you want a small place with its own pool for a honeymoon. We can reveal our top villas for honeymoons and tell you why.
Or perhaps you are looking for a place for a big celebration. Maybe a reunion or a large group holiday for 20-30 people. Would you really be confident you had found the right property for such an important event? Or would you like to pick our brains and find out where other clients of ours have stayed?
Q: OK, so I can see there are some advantages. What are the other benefits?
A: Short of time? We'll cut out the grind of endless online searches. If we don't have what you're looking for, we'll tell you.
Short of cash? We'll save you money by offering a range of alternatives at different price levels. Ideal if you are working to a strict budget.
Limited to certain holiday dates? We'll tell you what's available, quickly, and let you put an option on it free of charge.
Lots of special requirements? Bring them on! After over 30 years, we've seen most of them before.
We offer you:
FRIENDLY ADVICE and ASSISTANCE in choosing your self-catering holiday accommodation in Italy.
OVER 2000 holiday villas, farmhouses and apartments for rent in Italy.
EVERYTHING from budget hideaways to luxury retreats.
ONLINE holiday brochures showing property availability.
The CONVENIENCE of dealing with a UK based representative. 
PEACE OF MIND – we've been in business since 1988. We know the ropes!
Just contact us with your requirements and we'll do the rest.