Villas, near village, shared pool.
The villas and apartments below are all either inside or within 1km to 2km of a town or village. Shared swimming pool on site.
Most are within walking distance of a food shop and/or restaurant. Do take a torch with you if staying in the countryside and walking into a town or village at night – there probably won't be any street lighting!
Important: If you don't want to hire a car or use one at all during your stay then some properties are more suitable for you than others. Please ask us to advise you.
For details of facilities close by, please click through to each individual property description, or contact us here.
Podere degli Olivi, sleeps up to 13 in 3 apartments. Just 1 km from the world-famous medieval town of San Gimignano, Tuscany. Walk to town. Swimming pool shared between the apartments. Air conditioning in the bedrooms.
Casetta Angela. Sleeps 3. Apartment with very large swimming pool (16m x 9m) , approx. 600m from the lovely Tuscan town of Lucignano, in the province of Arezzo. The apartment is on the top floor of a country house, where the ground floor occupied by the owner – a kind and friendly person who shares in the use of the beautiful swimming pool. Private outdoor area with bbq. Walk to town. Free wifi. Rental prices from Euro 340 to Euro 595 per week.
Giovanna Vacanze, inside the village of Castel San Gimignano, Tuscany. Comprises 3 self-contained units (rentable separately), sleeping a total of 10 people. 100% family operated (owners live on site and are ready to offer help and advice if needed).  Swimming pool. Outdoor areas with tables and chairs. The village has 3 restaurants and 1 food shop. For a bigger choice of services/facilities, the town of San Gimignano itself is only 12 km away.
Castelletto, near Sinalunga, Tuscany. 18th century residence (comprising 6 units) in the Siena area. Swimming pool with diving board, plus children's pool. Tennis court. Large groups can dine together in Villa Limonaia, in a large room at the garden level. Professional kitchen on site (available on request).  Wine cellar / tavern.  Distance from town of Sinalunga: 2km
Le Donne di Bargecchia.  Just a 500m walk to village of Bargecchia with all kind of shops, restaurant, pizzeria and bus stop for Viareggio on the Tuscan coast. The property is divided into a villa (sleeps 13) and 3 annexes (each sleeping 4 – 6 ).  (A 4th annexe is  lived in by the housekeeper). Breathtaking views. Olive trees, bordered by a river, the sea and the lake. Swimming pool. 
Book Le Donne di Bargecchia here
Poggiluglio, just 300m walk from San Gimignano, Tuscany. 3 apartments each sleeping 2 people. All the features of a country house (large outdoor area, panoramic views, swimming pool, tennis court) yet only a short distance away from the centre of San Gimignano . N.B The property owners live on site and have 2 very nice and quiet German shepherds running free in the grounds.
Fattoria I Ciliegi, near Rufina, Tuscany.  6 apartments with a shared pool, large BBQ area and terrace. On-site "tavern" and bar open on selected days. Large barbecue with dining area. Wi-fi internet available on large terrace. Just 1 km away from Acone with a small supermarket, grocery/pizzeria and bar (open in summer).
Availability    Prices    Book Fattoria i Ciliegi here
Flavia, a hamlet midway between Pisa and Lucca (both 8km away). 6 apartments with shared pool. Each apartment with internet access. Versilia beaches 35km. Food shop and bus stop just 100m away. Probably the most popular group of apartments in our rental programme. Highly recommended.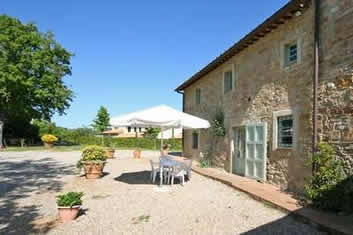 San Donato, San Donato in Poggio, between Florence and Siena, Chianti. Tuscany. 3 apartments (to sleep 6, 6 and 8 people) in a property with shared pool set in vineyards and olive groves. Only 500m from the centre of San Donato with shops, restaurants etc.
Castello Viterbese, in Proceno, Lazio /Tuscany /Umbria border area. 7 apartments (sleeping from 2 – 5 people) in the medieval hamlet of Proceno, whose origins date back to the Etruscan era. Just a few steps away from food shops. The owners of the property also run a nearby restaurant / winebar.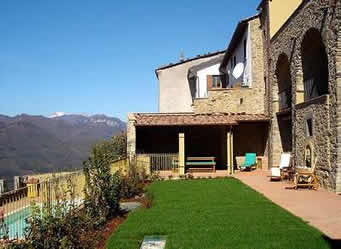 Lugliano, Lugliano, near Bagni di Lucca, Tuscany. 3 apartments (to sleep from 4 – 6 people) in a villa with shared pool. Panoramic views. On-site cooking service on request. Just metres from the centre of Lugliano with food shop.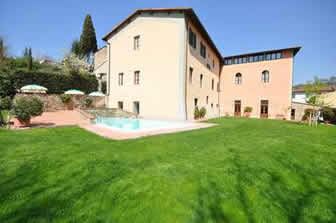 Palazzo a Greve, Greve in Chianti, Tuscany. 8 apartments (to sleep from 4 – 9 people) with satellite TV. Wi-fi internet access (extra charge). Some with air conditioning. Shared pool. Just a few hundred metres from the centre of Greve in Chianti.
You may also like to view our villas and apartments in or near an Italian town or village with private pool