Villas, near village, shared pool.
The villas and apartments below are all either inside or within 1km to 2km of a town or village. Shared swimming pool on site.
Most are within walking distance of a food shop and/or restaurant. Do take a torch with you if staying in the countryside and walking into a town or village at night – there probably won't be any street lighting!
Important: If you don't want to hire a car or use one at all during your stay then some properties are more suitable for you than others. Please ask us to advise you.
For details of facilities close by, please click through to each individual property description, or contact us here.
Podere degli Olivi, sleeps up to 13 in 3 apartments. Just 1 km from the world-famous medieval town of San Gimignano, Tuscany. Walk to town. Swimming pool shared between the apartments. Air conditioning in the bedrooms.
Le Donne di Bargecchia.  Just a 500m walk to village of Bargecchia with all kind of shops, restaurant, pizzeria and bus stop for Viareggio on the Tuscan coast. The property is divided into a villa (sleeps 13) and 3 annexes (each sleeping 4 – 6 ).  (A 4th annexe is  lived in by the housekeeper). Breathtaking views. Olive trees, bordered by a river, the sea and the lake. Swimming pool. 
Poggiluglio, just 300m walk from San Gimignano, Tuscany. 3 apartments each sleeping 2 people. All the features of a country house (large outdoor area, panoramic views, swimming pool, tennis court) yet only a short distance away from the centre of San Gimignano . N.B The property owners live on site and have 2 very nice and quiet German shepherds running free in the grounds.
Flavia, a hamlet midway between Pisa and Lucca (both 8km away). 6 apartments with shared pool. Each apartment with internet access. Versilia beaches 35km. Food shop and bus stop just 100m away. Probably the most popular group of apartments in our rental programme. Highly recommended.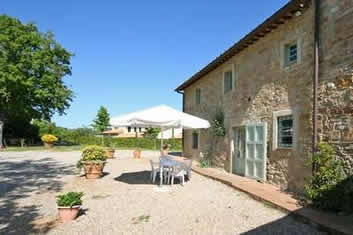 San Donato, San Donato in Poggio, between Florence and Siena, Chianti. Tuscany. 3 apartments, of which we have 2 in our programme. Shared pool set in vineyards and olive groves. Only 500m from the centre of San Donato with shops, restaurants etc.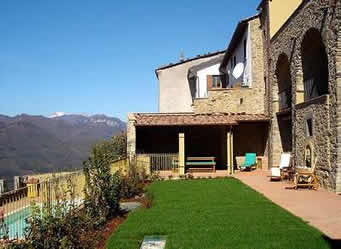 Lugliano, Lugliano, near Bagni di Lucca, Tuscany. 3 apartments (to sleep from 4 – 6 people) in a villa with shared pool. Panoramic views. On-site cooking service on request. Just metres from the centre of Lugliano with food shop.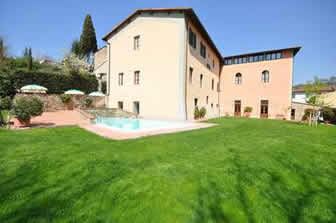 Palazzo a Greve, Greve in Chianti, Tuscany. 12 apartments with satellite TV. Wi-fi internet access (extra charge). Some with air conditioning. Shared pool. Just a few hundred metres from the centre of Greve in Chianti.
You may also like to view our villas and apartments in or near an Italian town or village with private pool