Billiards, private pool, sleep 10 – 15.
Villas in Italy sleeping 10 – 15 people with a private pool and a billiard /pool table.
Why not challenge your friends and family to a game of billiards? Or even a tournament!
*** We now have over 20 villas with billiard table. We have started to upload them, but please contact us here for a full list. Or let us know your dates and specific requirements ***
Sleeps 10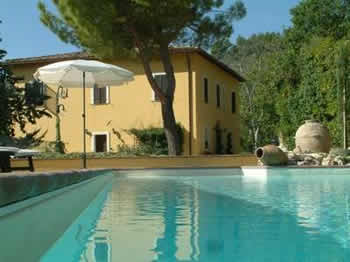 Villa Romantica, near Foligno, Umbria

See more photos and information
5 bedrooms, 3 bathrooms, sleeps 10. private swimming pool, billiard table
Rental prices from Euro 1650 to Euro 2870 per week
Sleeps 11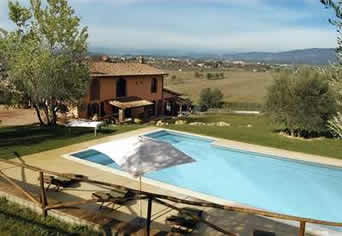 Villa Nora, near Empoli, Tuscany

See more photos and information
5 bedrooms, 4 bathrooms, sleeps 11. Private swimming pool, air conditioning, billiard table.
Rental prices from Euro 650 to Euro 5290 per week
Sleeps 12 : 
Villa Cuculo – house, private pool, private tennis court, billiards
VILLA CUCULO Large elegant villa with private tennis court, private pool. 6 bedrooms, 4 bathrooms. Just 1 km from the village of Patrignone (with bar), Tuscany.  Billiard table. Fans in all bedrooms. Free wifi. Availability.
Villa Cerchi, Rufina, near Florence, Tuscany.  6 bedrooms. Sleeps 12.  Private pool. Air conditioning in all bedrooms. Billiard table.  Terrace for outdoor dining with panoramic views. Euro 3300 – Euro 4700 per week.
Sleeps 14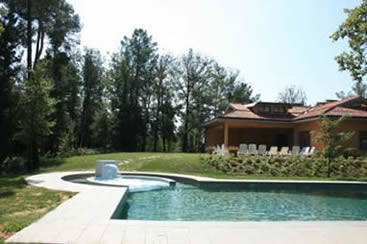 Verde Incanto, near Monte san Savino, Tuscany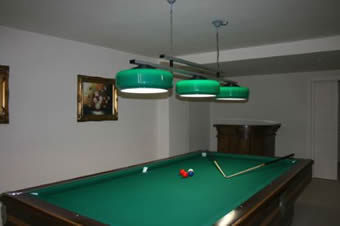 Pool table at Verde Incanto
 6 bedrooms, 8 bathrooms, sleeps 14. Private pool. Pool table. Table tennis.
The swimming pool is heated by solar panels so can be used from April to October.
Rental prices from Euro 1715 to Euro 3136 per week
Sleeps 15:
Villa Vicchio, about 40km north of Florence, Tuscany. 8 bedrooms. Sleeps 15. Private pool.  Pool table. Rental prices from Euro 1700 per week.  Availability