The Palio di Siena, Tuscany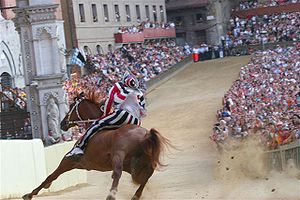 Some information for you today about Siena's famous horse race.
The Palio, which takes place in the Piazza del Campo in Siena, is an exciting horse race contested by ten bareback riders representing different areas of the city known as "contrade".  The race and its attendant rivalry goes back centuries, and is preceded by a colourful pageant which is viewed by spectators from all over the world who cheer on from vantage points around the square.
Unlike at conventional racecourses, the Palio is won by the horse representing its contrada, not the jockey. So if the jockey is unseated whilst negotiating the treacherous twists and turns of the Piazza, this does not affect the result.
The race is always held on two occasions during the summer: 2nd July and 16th August. Last week's race was won by a horse called Fedora Saura, representing the contrada of Selva. It was the second time the horse had won the race, and the first time for its jockey.
There's still time to book a holiday house in the Siena area to see the next race on 16th August!  Contact us here and let us know the kind of accommodation you are looking for.