Getting ready for 2011 holiday rental season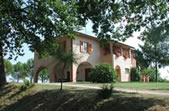 At this time of the year our time is largely spent looking forward to the next holiday season. That means taking a close look at our website, adding new villas and updating prices where necessary.
It has struck me how much booking patterns have changed over the 22 years that I have been running One Stop Italy. In the olden days, January and February would be the key months for new bookings; the phone would literally not stop ringing all day. (Of course in 1988 there was no internet and not even a fax machine in our office!)
Nowadays, the year has fewer peaks and troughs though there is always a spike in July/August as the late-bookers coincide with the early birds. For example, this year we had a last-minute rush for August 2010 holidays at the same time as people were booking one year ahead for large group, family reunion and wedding accommodation for 2011.
The biggest change of all has been the move towards large group holidays. Customers have realised that the cost savings can be enormous and yet – and this is important – they don't have to sacrifice their privacy. Rather than sharing an independent villa they can, if they wish, take over a group of farmhouse apartments. The end result is the same: private use of swimming pool, tennis court and any other on-site facilities. But at the same time each family also has its own space, living room, kitchen etc. Here's an example of  this type of family group holiday – see La Contea.