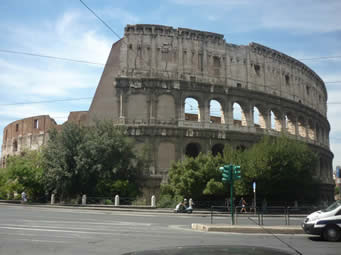 It was a somewhat daunting prospect.
The Colosseum. The Palatine Hill. The Forum.
Three Roman sites to see in one day, in the company of a fanatical Ancient History buff (our student son).
Early September. Scorching sun. High humidity. And no prospect of a nice sit-down until every last ruin had been ticked off the list.
Somehow we had to reduce the hassle factor. So we hatched a cunning plan.
Dateline: 8th September 2011
Time: 11.20 am
Location: Colosseum, Rome
The queues for a day pass were snaking around the outside when we arrived. Two hours wait, people said.
But we just sailed past them all.
Straight inside we went, down the special channel for Internet Reservations. Direct to the dedicated ticket booth.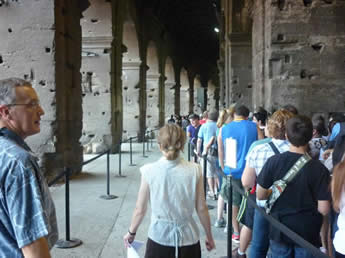 Yes, we had ordered our tickets online, successfully, with no problems. IT HAD WORKED!
Entry to all 3 monuments was great value at Euro 12.00 (with an 18-24 discount for son at Euro 7.50). And the supplement for advance purchase? We each paid just Euro 1.50 on top.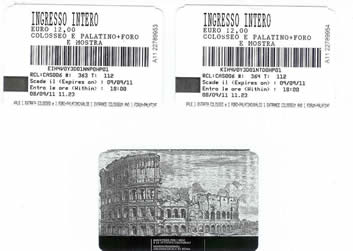 I must admit, I had been a bit sceptical a few days earlier when our son suggested we used Omniticket. 
But, as is so often the case, his youthful optimism won the day.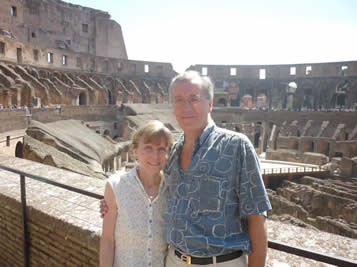 © Gillian Dearnley 2012.
Gillian Dearnley has been a lover of all things Italian for 20 years. Her company One Stop Italy arranges self-catering rental accommodation throughout Italy.
Visit her website at https://www.onestopitaly.com/ and browse the online catalogues with over 2000 accommodation possibilities. Help and personal advice a speciality.