Corbara
Corbara – Farmhouse with views over Lake Corbara, Umbria. Sleeps 7 in 3 bedrooms. 2 bathrooms. Rental price Euro 390 per week (LOW), Euro 480 per week (MID), Euro 640 per week (HIGH)
Fantastic value for money – Umbrian farmhouse, sleeps 7 from only Euro 390 per week
There is a sunny terrace by the side of the house equipped with garden furniture where you can relax and enjoy the lovely views.
The house and whole area is within a protected zone called the 'Parco Fluviale del Fiume Tevere'. The beautiful lakeside country around supports fishing, canoeing and rafting. Further on past the lake is the city of Orvieto. The city is also of great historical and artistic interest. 25km from Orvieto, 65 km from Perugia (airport with Ryanair flight from UK)
 Bigattiera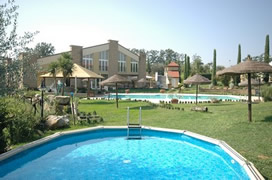 Bigattiera, just 40km from Pisa airport – and so much to do on site!
This is a group of apartments in a quiet location with great views and lots of on-site facilities to keep everyone happy.
Now taking bookings for 2010 & 2011.
At guests' disposal: Large equipped garden, shared swimming-pool (14 x 7 m), pool for children (8 x 5 m), another swimming-pool (10 x 4 m), table tennis, barbecue, playground for children, 2 tennis courts, a wellness centre with sauna, jacuzzi and Turkish bath.
Within the grounds there are 4 private small lakes (fishing facilities) and wonderful horse-back riding facilities with covered area, steeplechase grounds and a beautiful park where we can organize walking tours.
On the premises there is a small restaurant where guests can taste nice local recipes. All of the apartments are provided with air-conditioning and wi-fi internet connection (to be paid on site).
Santa Vittoria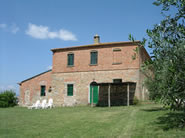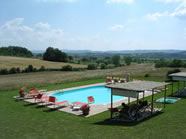 Santa Vittoria – Typical farmhouse in a panoramic and quiet position near Foiano della Chiana, Tuscany on the top of a hill covered in vineyards and olive groves. Sleeps 8 in 4 bedrooms. 2 bathrooms. Rental price per week Euro 475 per week (LOW SEASON), Euro 570 per week (MID SEASON), Euro 850 (HIGH SEASON)
Fantastic value for money – stay in this Tuscan farmhouse, sleeps 8 from only Euro 475 per week, including swimming pool
Santa Vittoria is part of an important farm where they produce excellent wine and fine extra-virgin olive oil. Great views over the Val di Chiana landscape. The wooden ceilings, the terracotta-tiled floors and the original old furnishings, give to the house a very particular charm of ancient, simple and essential things. In front of the house there's a large grassy area equipped with garden furniture. About 250 m away, near to another house which is also part of the farm, there are the laundry room with washing machine and the swimming pool (size 7 x 12 m), to be shared with the owner and his guests.